MENS TOTAL DISORDER JACKET
Translation missing: en.products.product.regular_price
$330.00
$198.00
The Total Disorder Snow Jacket can handle whatever you throw its way. features unparalleled 20K/20K waterproofing and breathability, fully taped seams, super stretch twill fabric that's made from 50% recycled materials. With REPREVE® recycled insulation and magma lining to keep you warm without the bulk. Stylish color options and subtle embossed branding.
SKU: 1P0022-6018
50% Recycled Polyester / 50% Polyester
Model is 6'2" wearing a size large
Details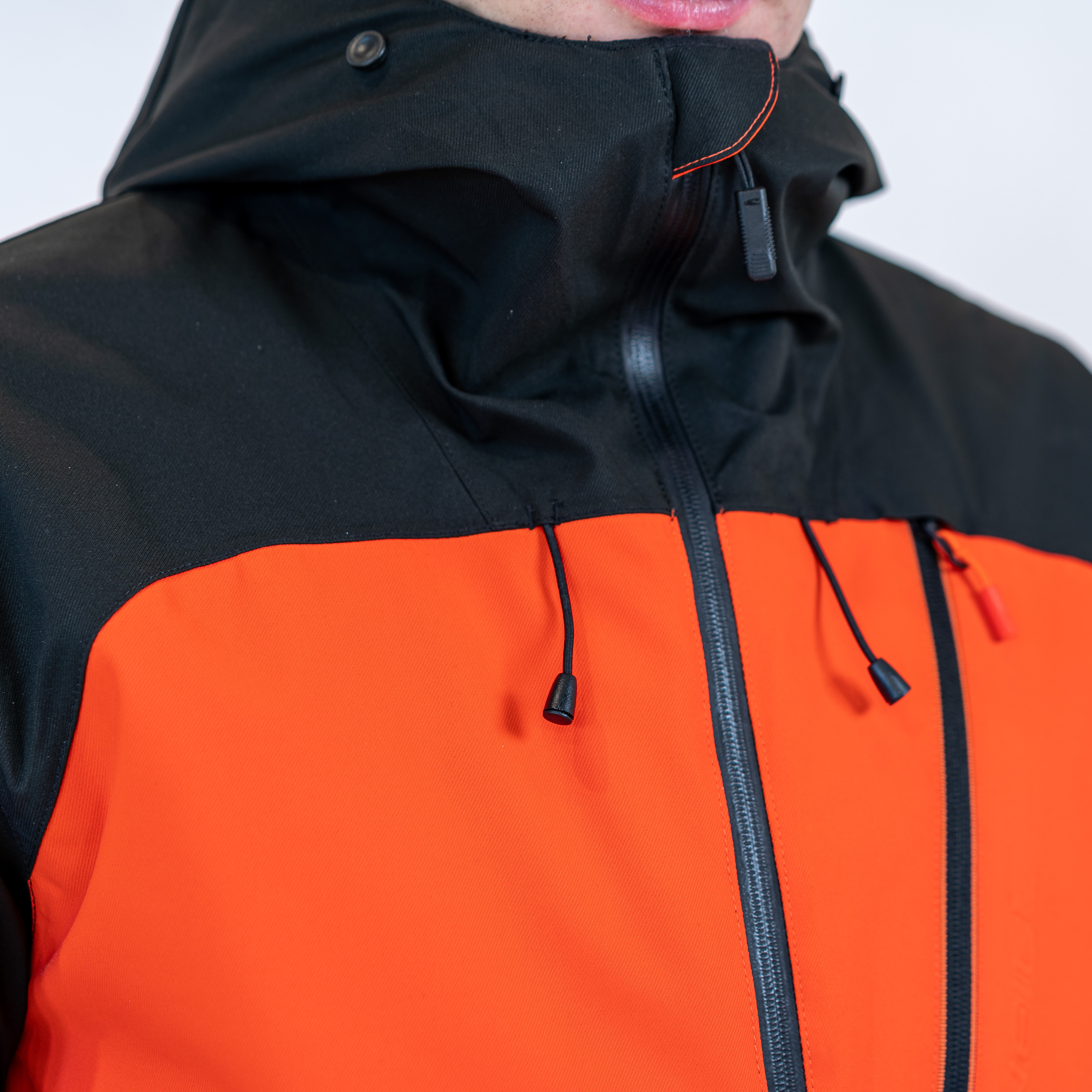 WATERPROOF ZIPPERS
Fully waterproof zipper to prevent water infiltration at the zipper closure and protect your goods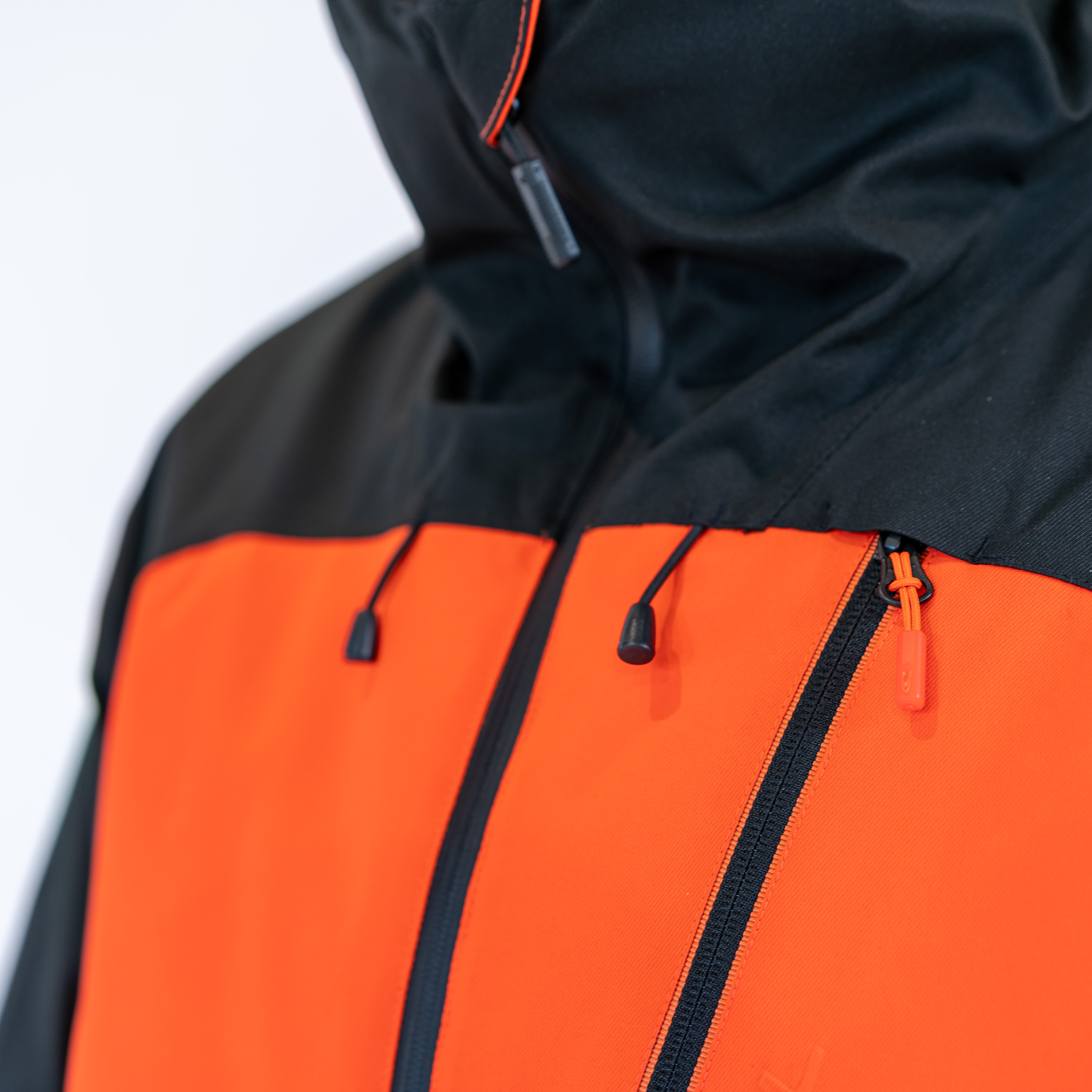 FULLY TAPED SEAMS
In order to make an outerwear garment waterproof, you need more than waterproof fabrics - you also need taped seams. A simple seam becomes a taped seam once waterproof taping has been carefully and firmly placed over a stitched seam. Fully taped seams means that all seams of the garment are taped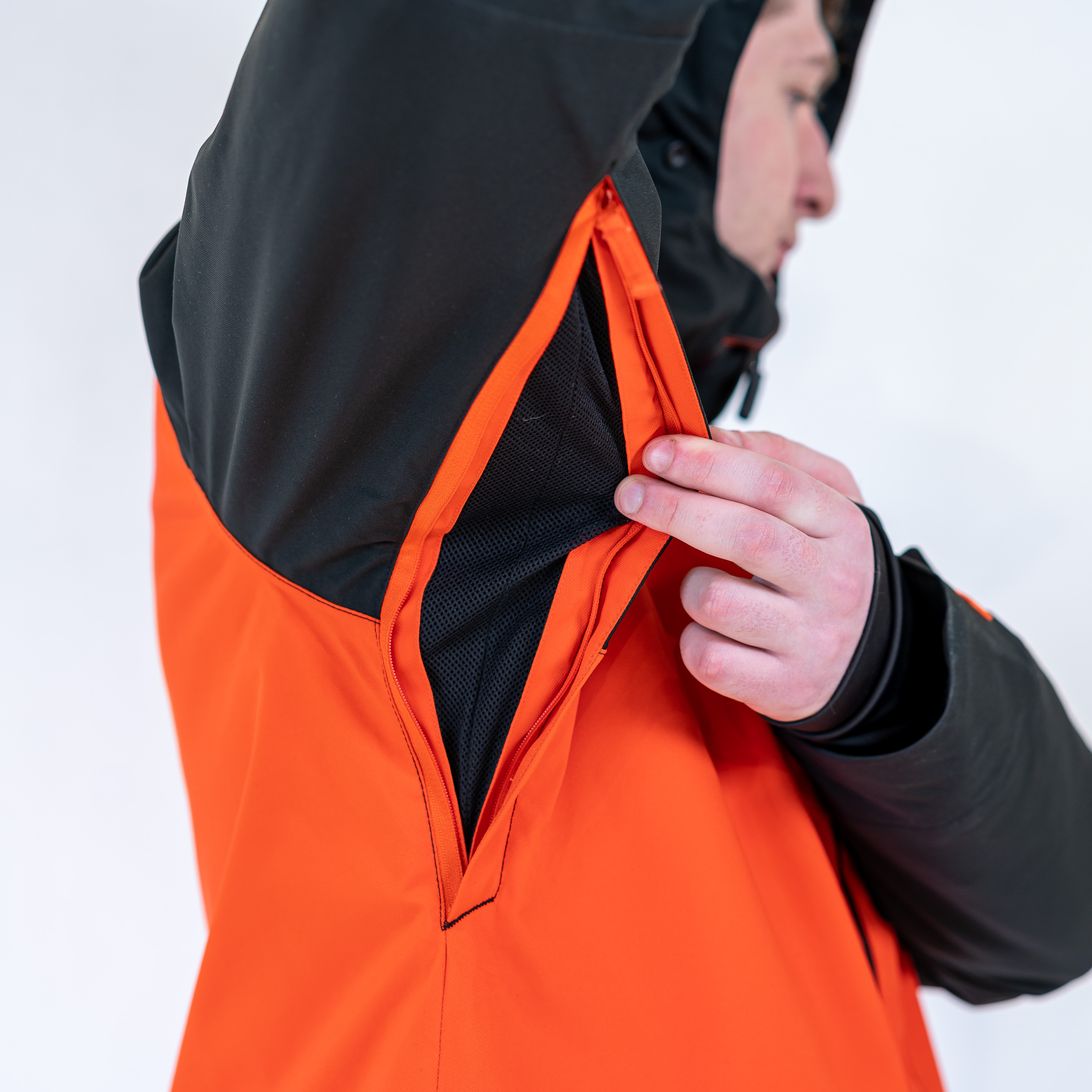 ARMPIT VENT
Adjustable temperature control where you need it the most – under your arms. Simply open to increase ventilation
FIXED HOOD
Keep the heat in and the snow out with the fixed hood. Ergonomically shaped hood with built-in visor for maximum storm coverage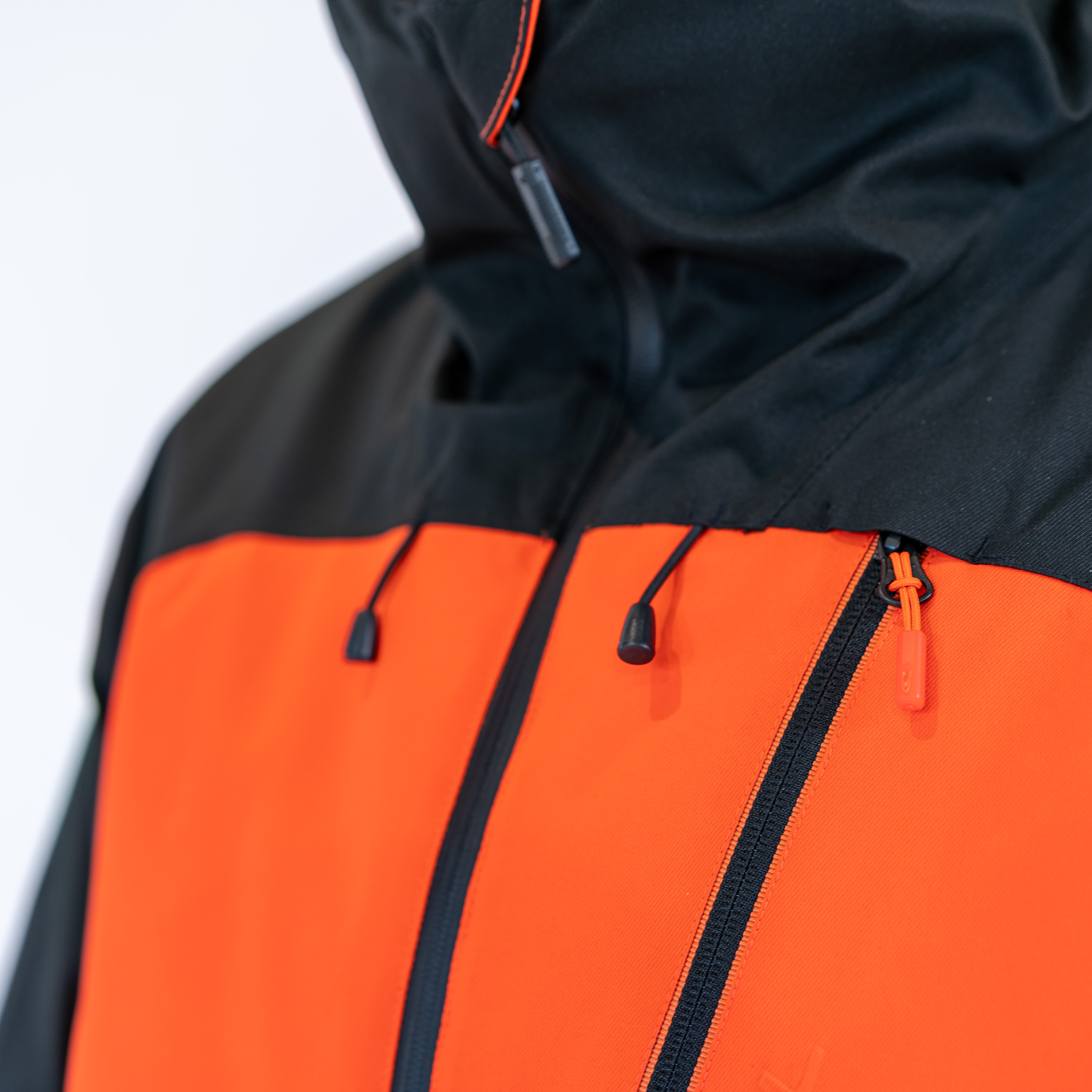 HOOD ADJUSTMENT
Pull tab elastic located in the front of the jacket to cinge or loosen the hood. This lets you protect your head area in stormy and windy conditions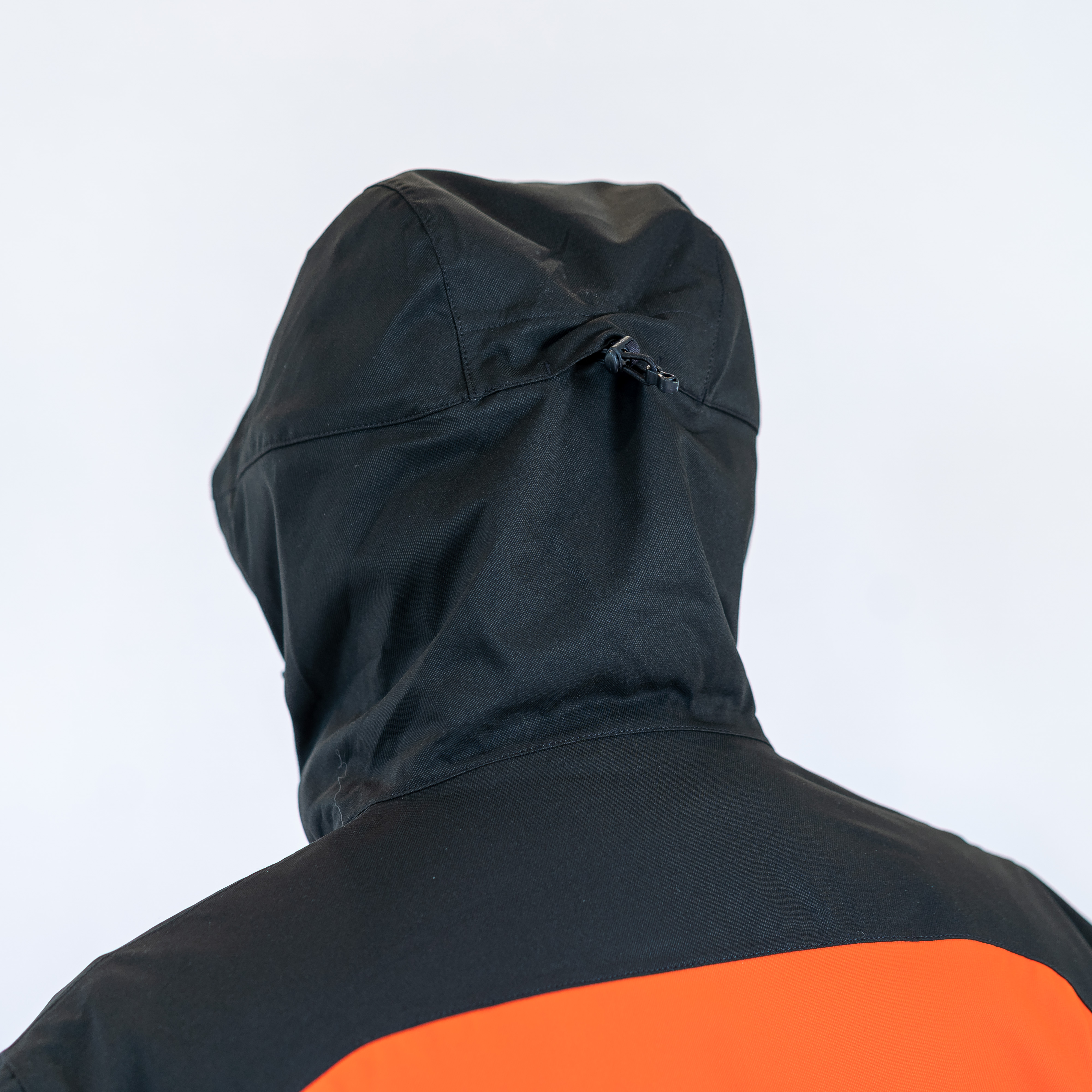 BACK HOOD ADJUSTMENT
Adjust the hood with the adjuster located on the back of the hood. This lets you protect your head area in stormy and windy conditions.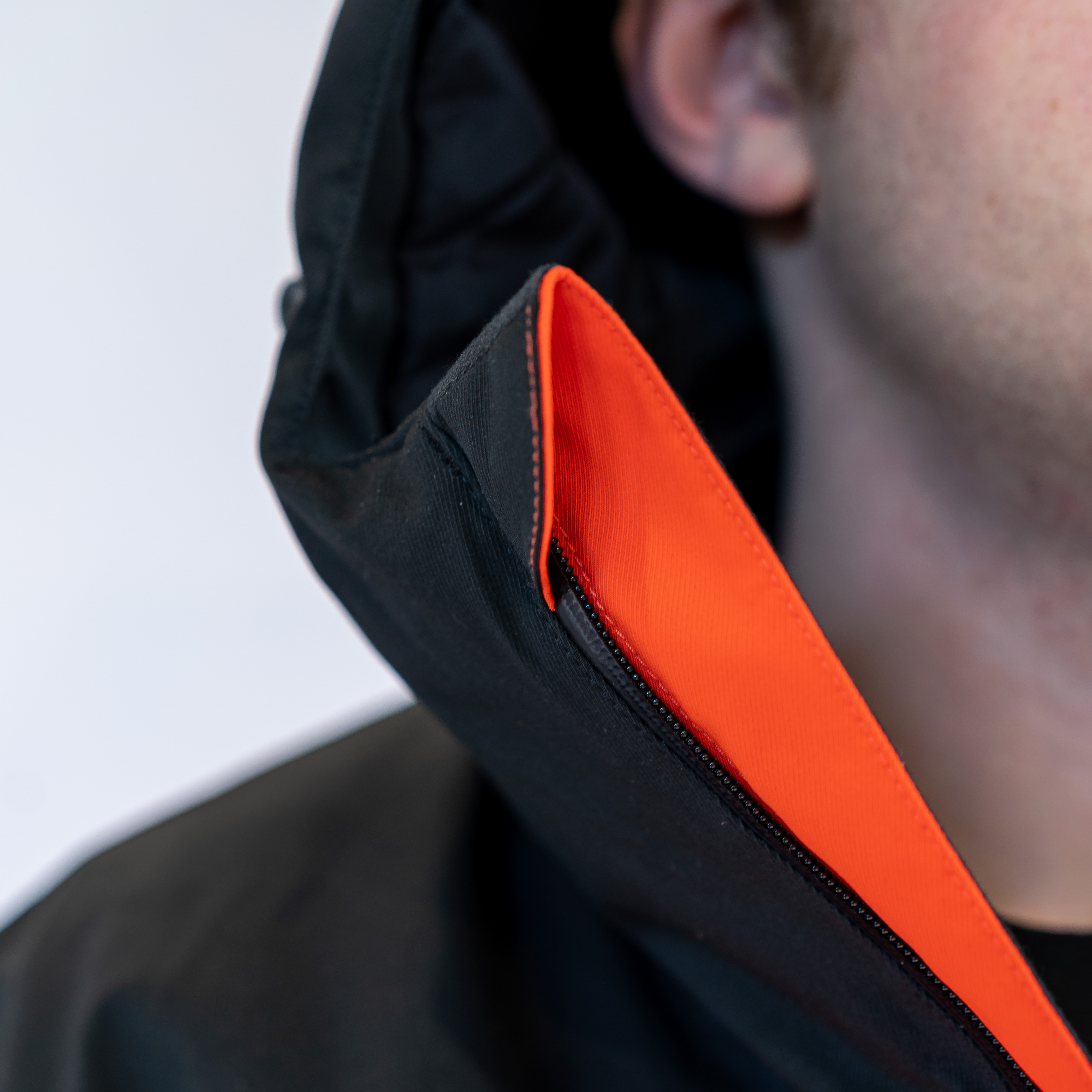 CHIN PROTECTOR
A protective piece of comfortable fabric to keep the zip soft and cosy against your chin and avoid rash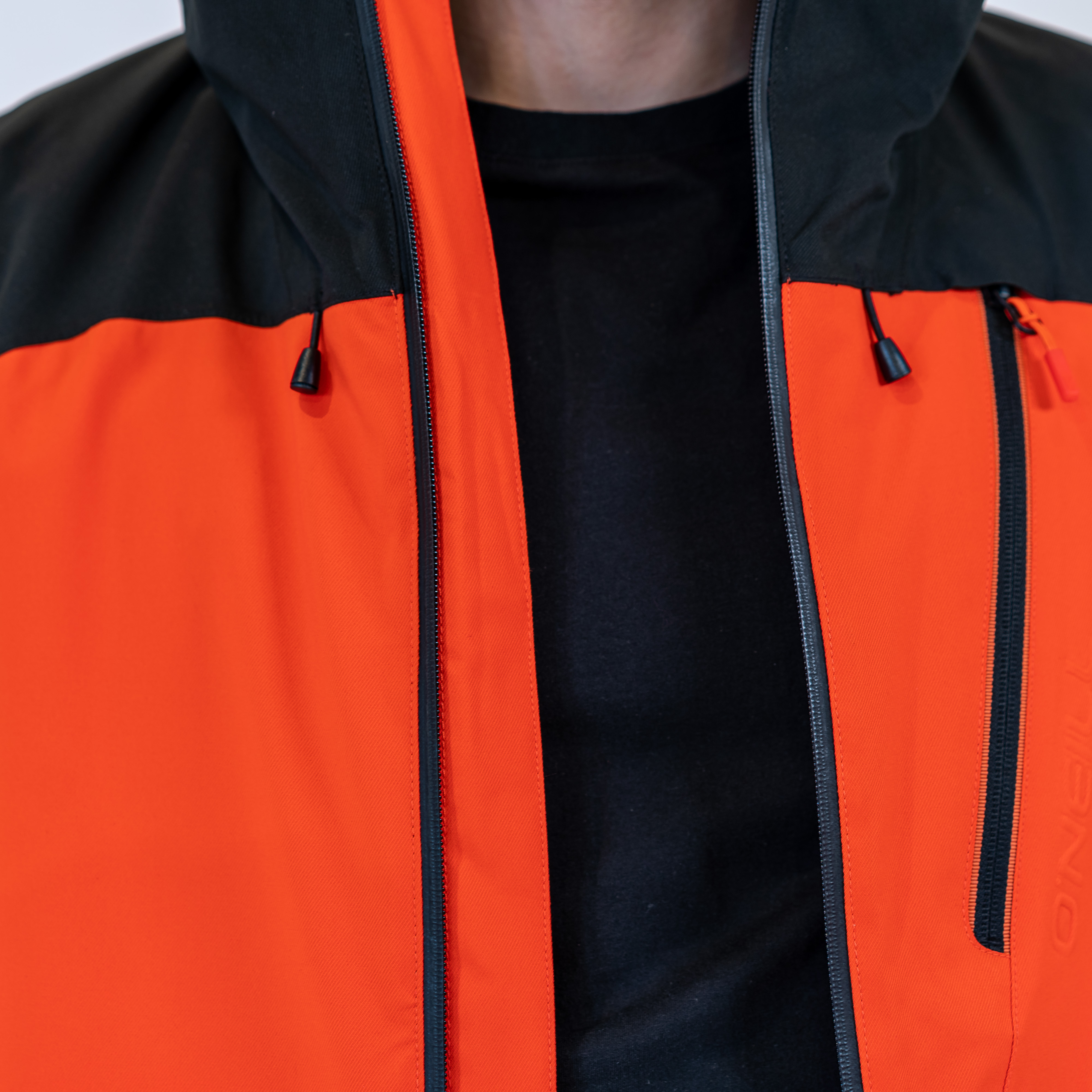 STORM PLACKET
Covers the zipper to keep moisture and the cold air out. A protective flap of fabric which sits in front of the jacket over the zip to stop cold winds getting into your jacket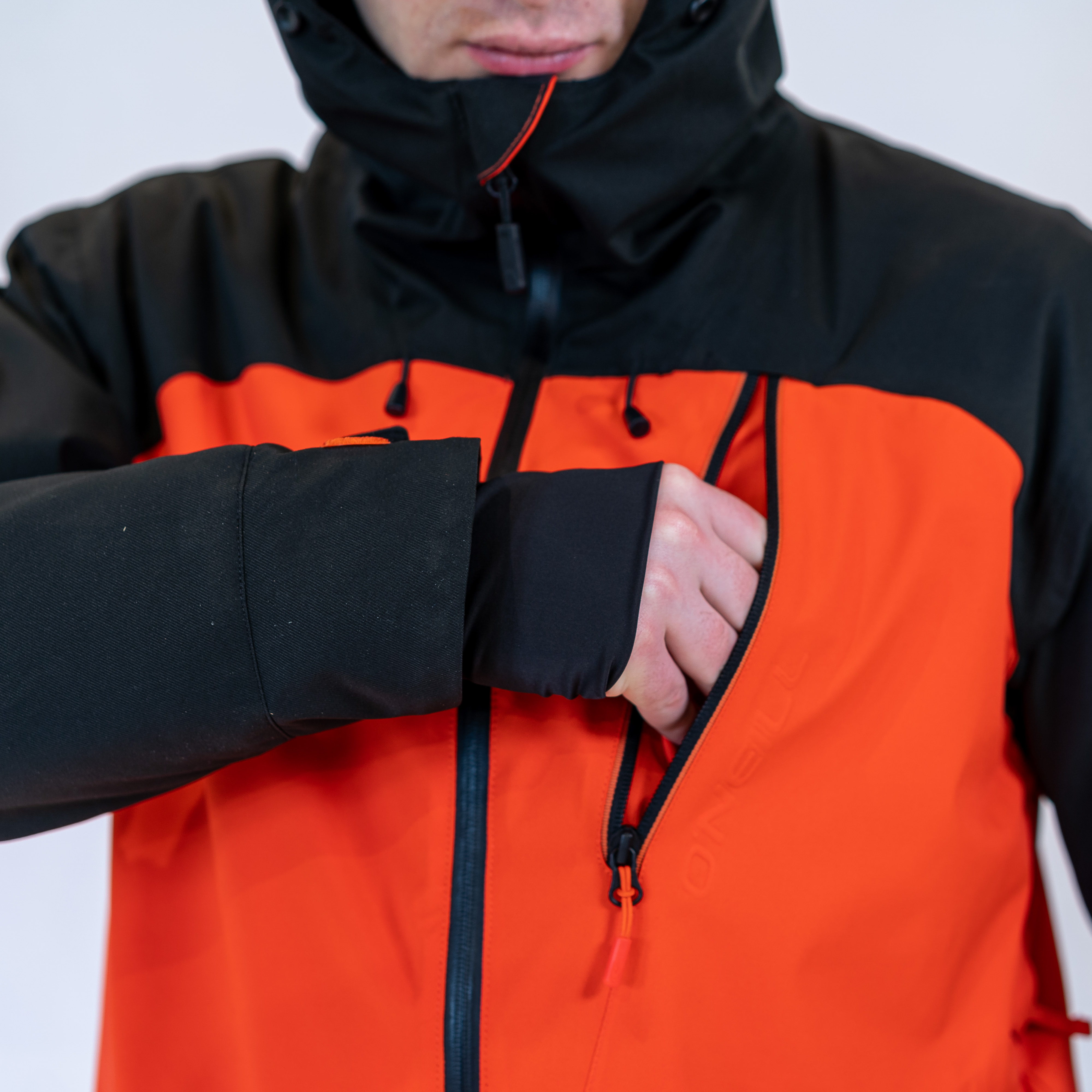 MEDIA POCKET
Stash your music device or phone here for easy access. The pocket is positioned inside the jacket lining, under the chest pocket. This allows you to access it without even having to open up the jacket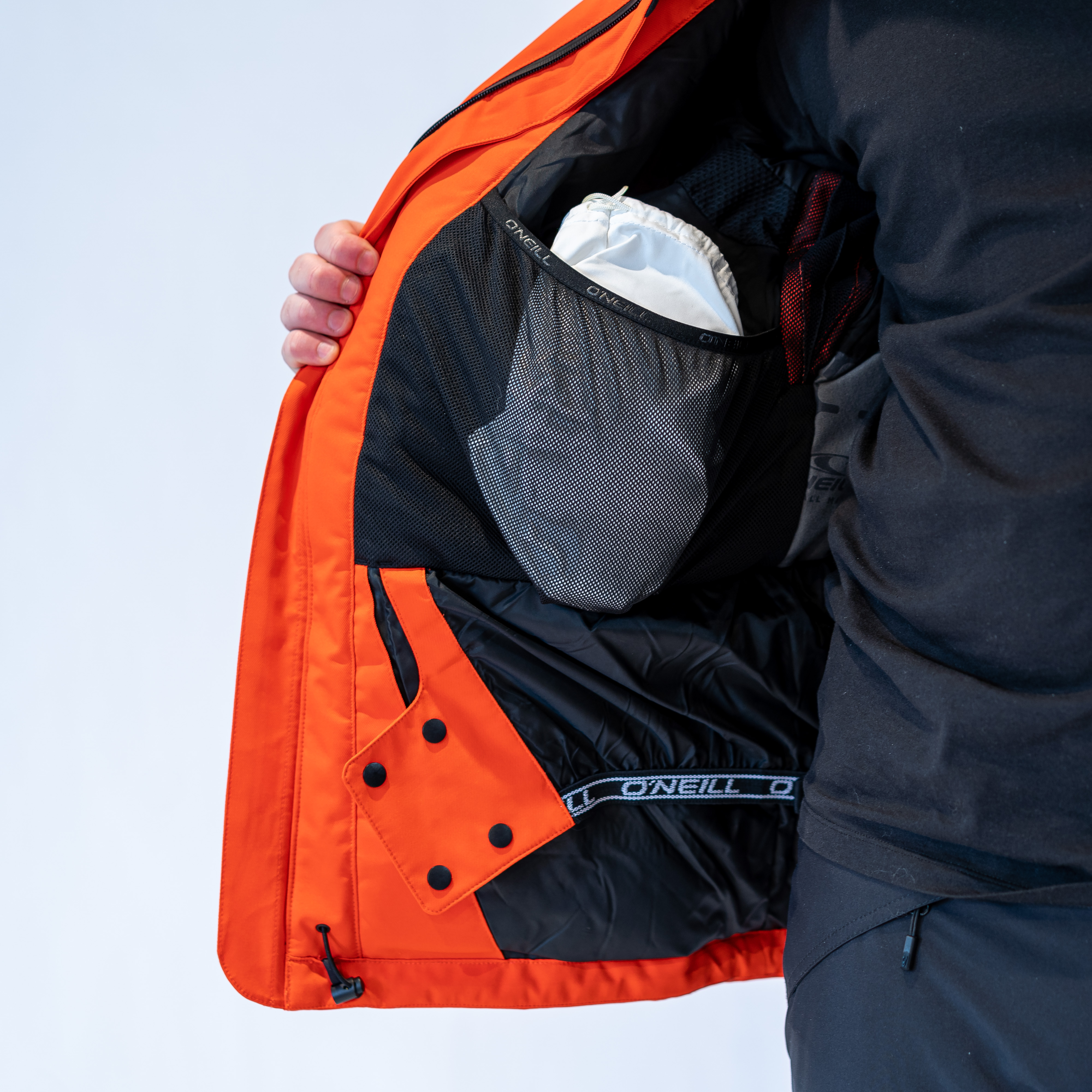 GOGGLE POCKET
The place to store your goggles inside your jacket when not in use or need to dry. Made from highly breathable, ventilated mesh fabric, your goggles won't fog up when stashed in the goggle pocket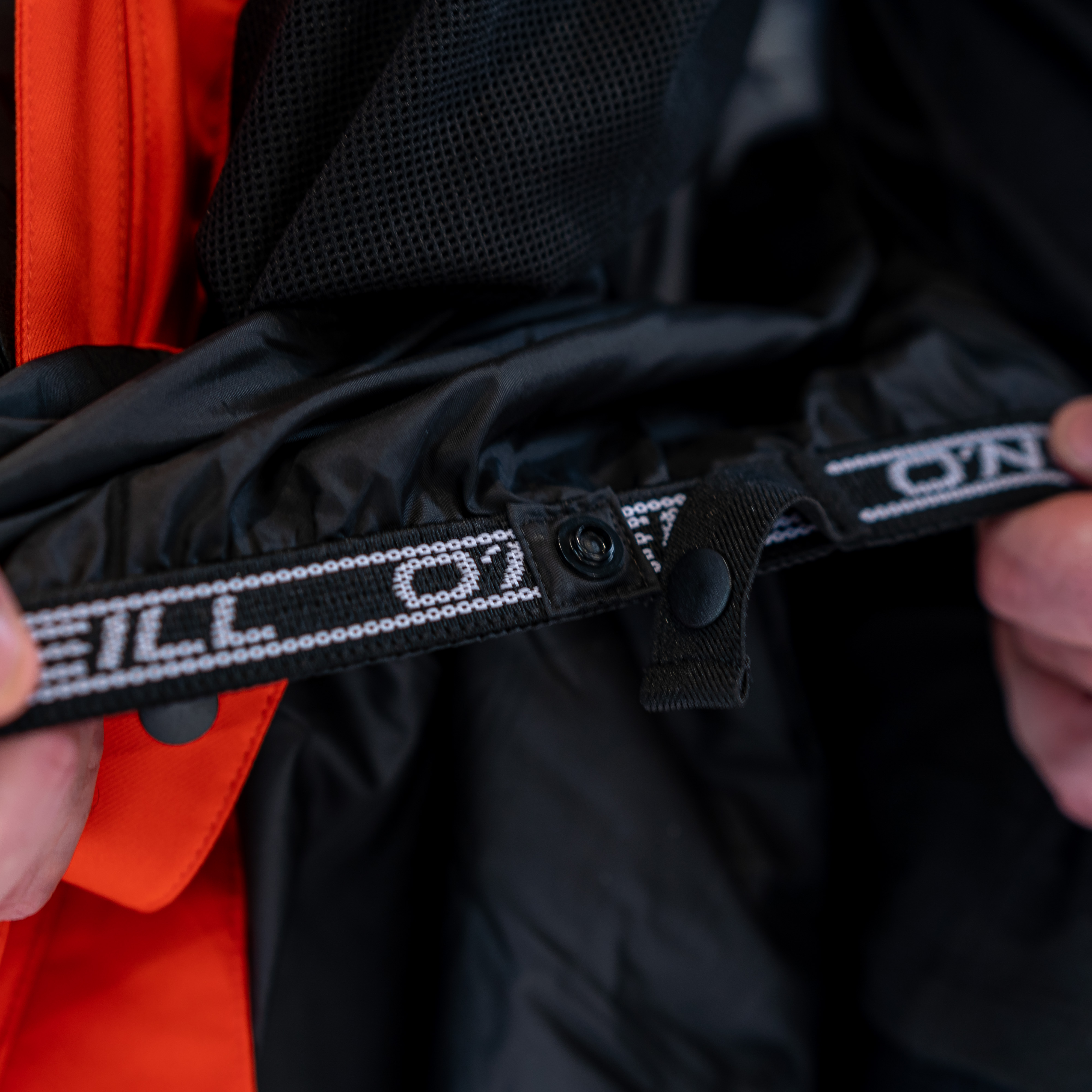 PANT CONNECTOR SYSTEM
The connector system is located at the bottom of the jacket. This lets you connect your snow pants to the jacket at the front as well as the rear and the sides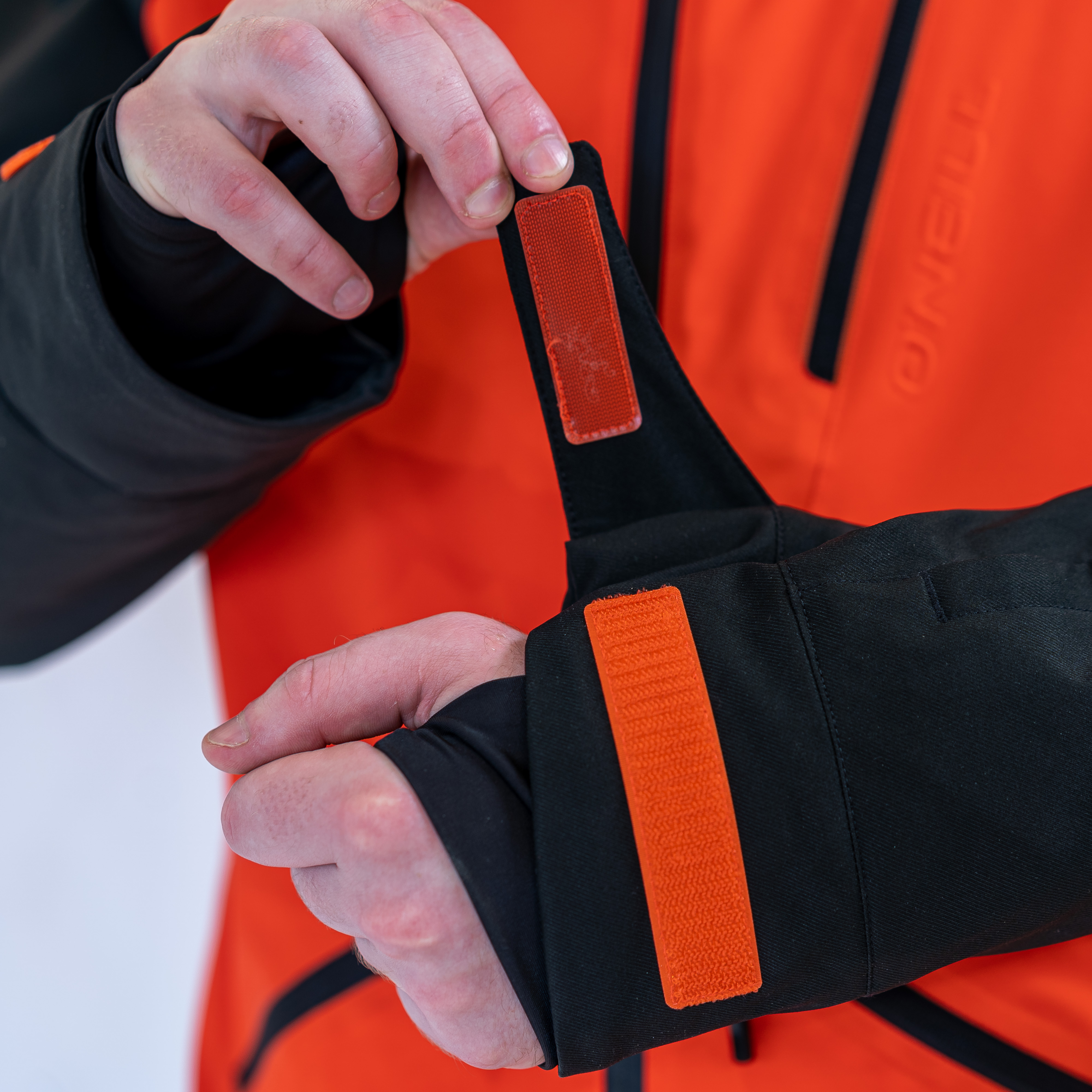 CUFF ADJUSTER
Adjustable cuff with extra elastic and velcro closure to adjust the cuff opening to a snug fit for stormy days or more open for the sunny and warmer days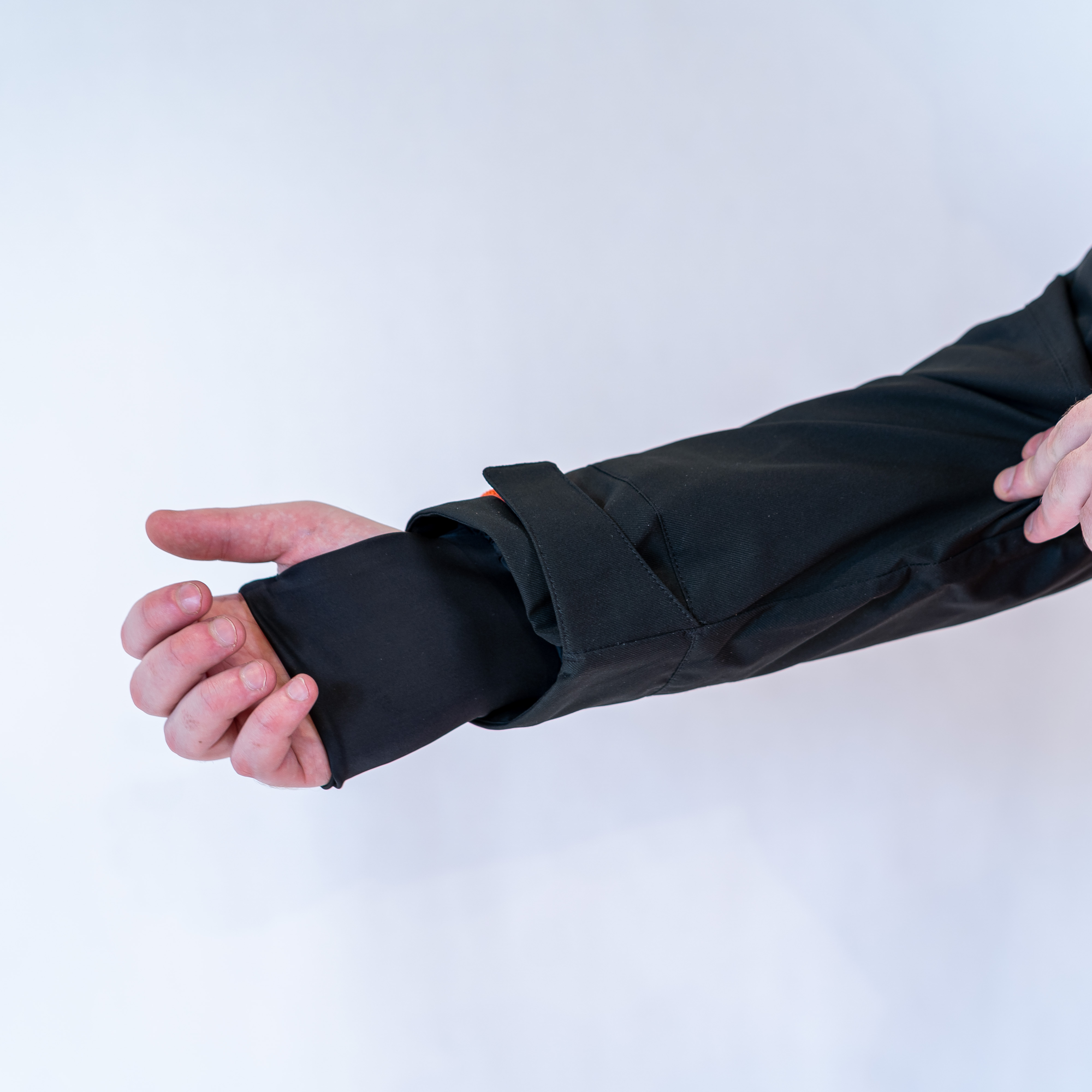 WRIST GAITOR WITH THUMBHOLE
Keep the snow out of your sleeves and your wrists. A stretchy piece of fabric at the end of the arm cuff which you can put your hands in to stop snow going down your sleeve. The thumbholes keep palms warmer too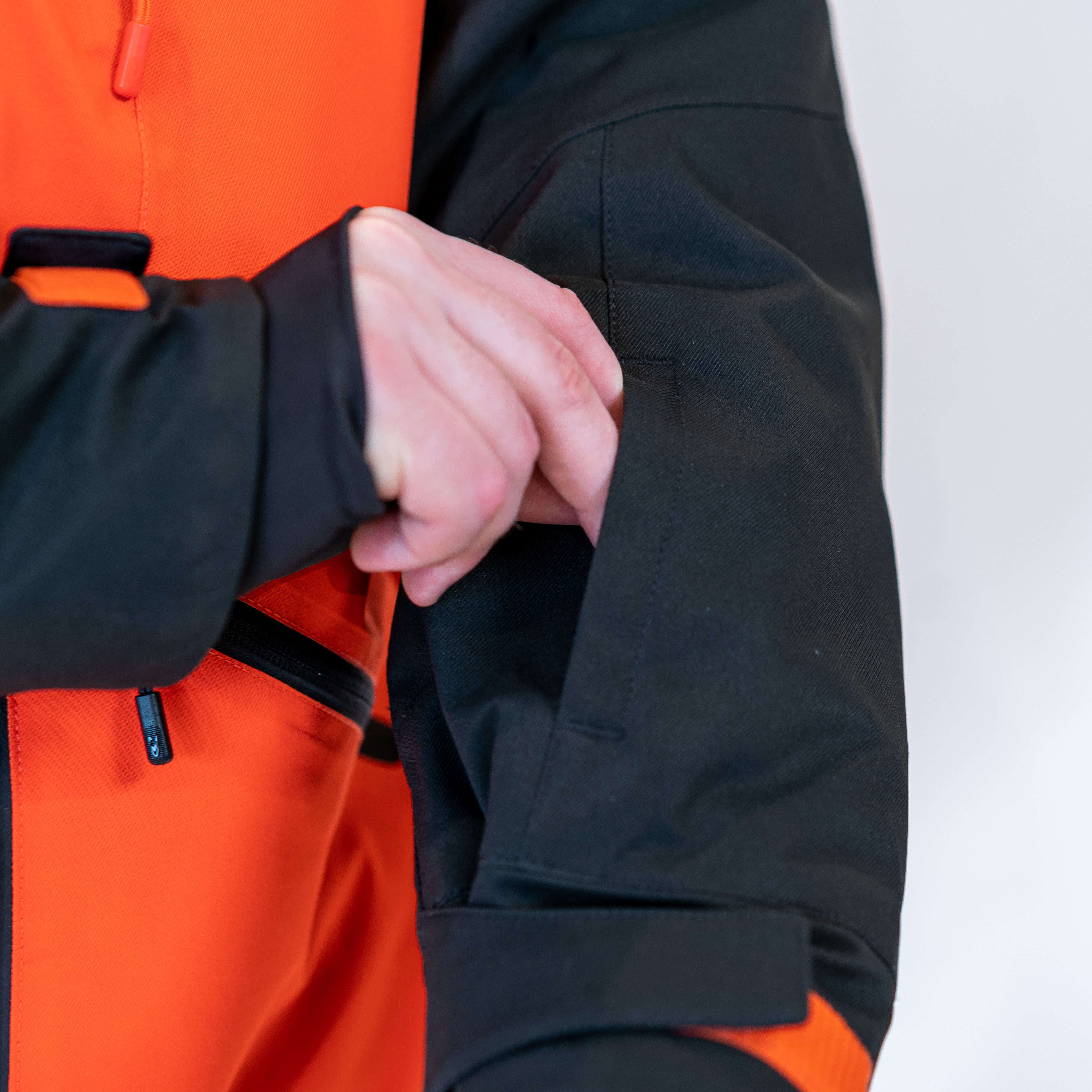 LIFT PASS POCKET
Keep your lift pass safely in its (zippered) pocket. The pocket is always positioned on your left underarm to scan your lift pass with ease at the automatic access control gates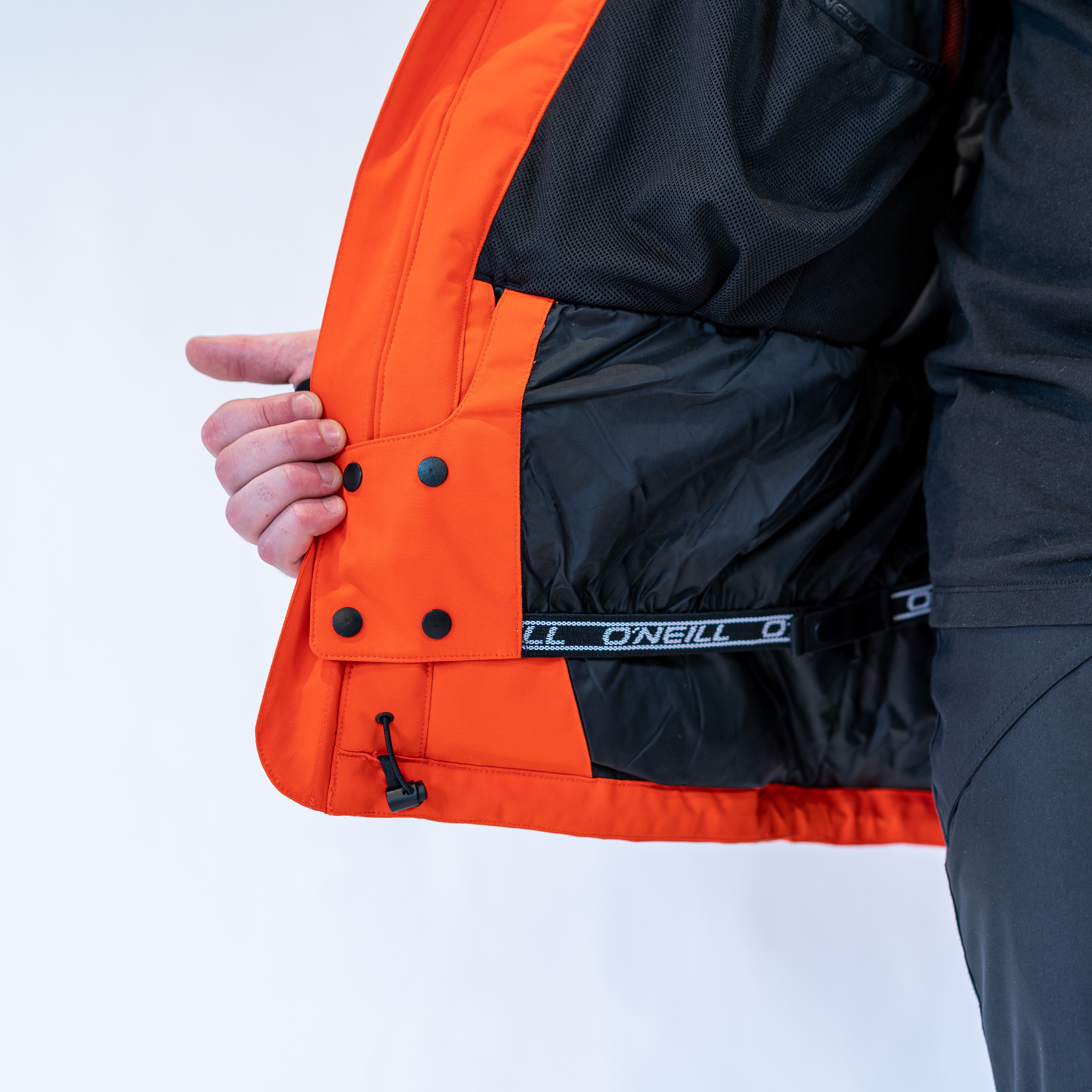 FIXED SNOW GAITOR WITH STOW
The barrier between the snow and your body when you take a tumble. This piece of fabric is found at the bottom hem inside the jacket with press buttons to seal it and stop snow getting in. There is a pocket to stow the snow gaitor when you're not using it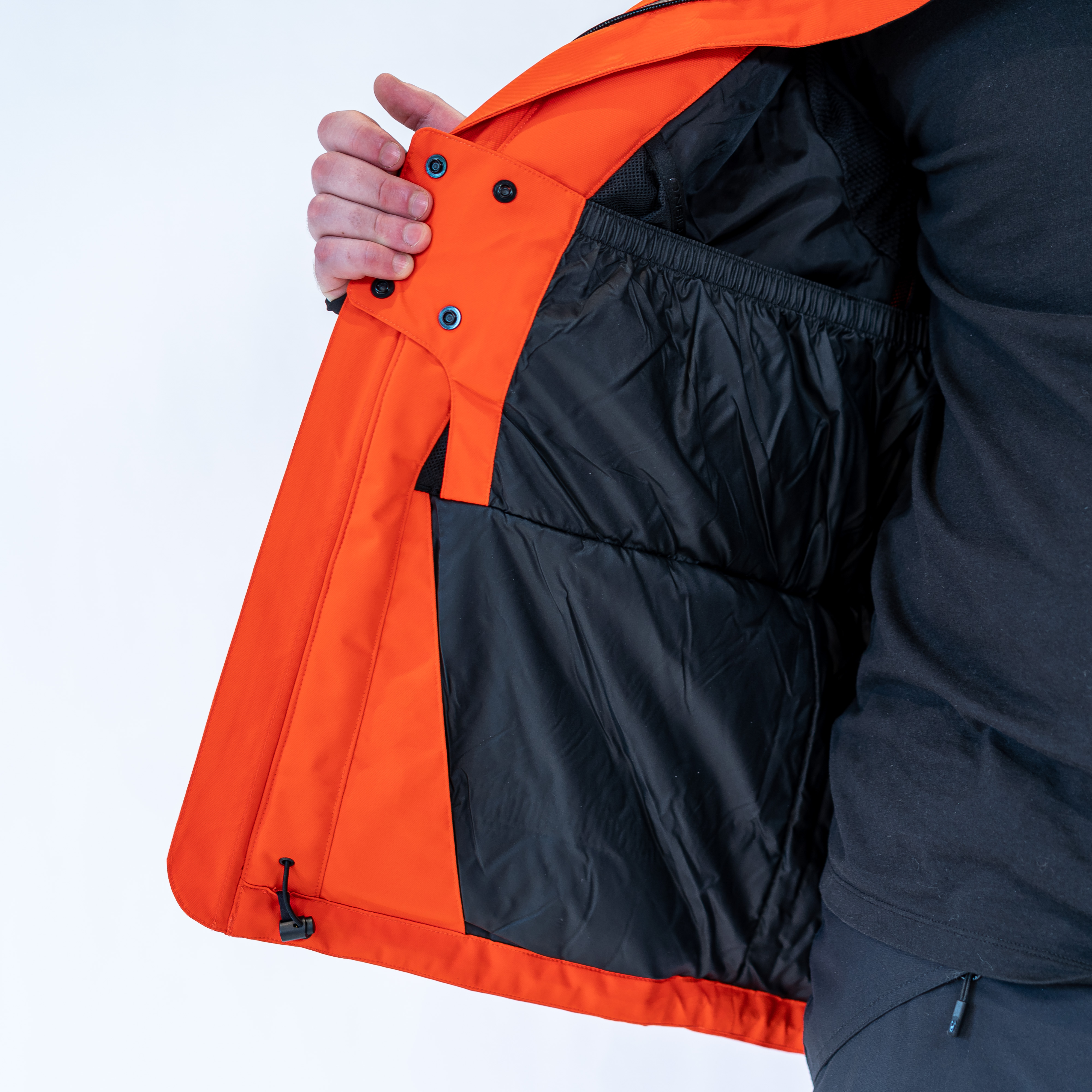 BOTTOM HEM ADJUSTMENT SYSTEM
This jacket can be tightened at the bottom with a pull string inserted in the bottom hem
Tech
O'Neill Blue
Garments with the O'Neill Blue label are made from at least 50% recyclable fibers. O'Neill Blue products were designed for durability, more circularity and towards a better future
20K/20K Waterproof
20K-20K waterproofing is meant for those seeking the maximum water protection and even in storm conditions. This is recommended for riding in extreme conditions.
Super Stretch Twill
Super Stretch Twill is a resistant fabric with extra stretch to give you freedom in all your movements with no resistance
Fellex Repreve
Made from recycled bottles to create the highest performance eco-friendly insulation with REPREVE recycled fibers
Firewall Magma
Firewall Magma on the inside of the jacket is a thermal, energy absorbing material that absorbs and retains more body heat than conventional liners. How much more? At least 25%
Ratings
Fast Deliveries
Orders before noon ET ship same day.
Free Shipping
Spend $100 and receive free shipping.
Free Exchanges
We cover the cost of return shipping for size/color exchanges.